Sheetrock & Drywall Repair in Greensboro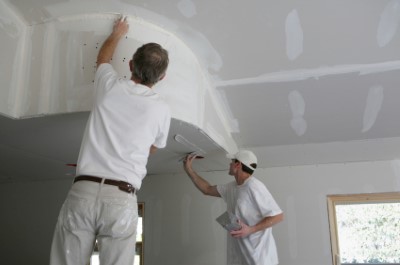 If you are searching for a professional to address your need for Greensboro Sheetrock or Drywall Repair services, you have found the right company. Here at Gio's Pro Painting, we have the training, knowledge, skills and experience to take care of just about any task you could need related to this common brand of drywall, in your home or business. Not to mention, our Greensboro Painters have the dedication to our customers that makes all of the difference in the quality of results that you get.
Taking proper care of your interior walls is one of the smartest ways to protect your investment – as well as ensure that the inside of your home or business looks presentable. Take good care of your walls and they can last for years, if not decades, to come. Your drywall can end up needing repairs for a number of reasons but from the moment you first start moving into your space you are putting your walls at risk of Sheetrock & Drywall damage even just from moving boxes and bulky furniture.
Expert Level Sheetrock Repair Services
Another common issue people have to deal with when it comes to their walls would be the damage caused by hanging pictures, art, hooks or other items on the wall. The proper way to hang items on your wall is by locating the stud to use as support, yet most people don't bother with this step. This puts extra strain on the walls and tends to leave a bigger hole when the supporting nail is pulled out or comes out from being weighed down.
Holes, cracks, dings and other types of damage can occur to your walls. The important thing is getting them repaired quickly. The last thing you want is for the focal point of your home to become your damaged walls. Now that you know the name to call on in order to take care of this type of service work, there is no time like the present to get started. Let us show you the potential the inside of your home or business has by taking care of your Sheetrock Repair services.
Greensboro Sheetrock Repair Services
With an entire career history spanning to include just professional painting and related services, you can feel confident that you are getting the best when you are working with us. We look forward to having the chance to work with you and show you all that we can do for you. When it comes to your Greensboro Sheetrock Repair services, and other related tasks, give Gio's Pro Painting crew a call. As the local leading painting service provider, we think you will be quite pleased with the final results you get from us.
Sheetrock & Drywall Repair Services We Provide
Sheetrock & Drywall Repair Photo Gallery Coming Soon.
If you are looking for Sheetrock & Drywall services in the Greensboro, NC area then please call our Painting Contractors at 336-491-9106 or complete our online request form.