Reidsville House Painters You Can Count On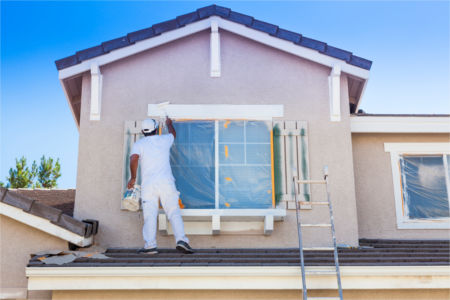 If you are one of the many homeowners out there on the hunt for the right Reidsville painter to help you with your next house painting project, you've come to the right place. Here at Gio's Pro Painting, we are the premier painting contractors the Reidsville area has to offer, so when you're ready to see the difference that a professional-quality paint job can have on your home, give our team skilled painting professionals a call and let us help you bring your vision for your home to life like you never imagined possible. Are you looking for a professional Reidsville painting contractor who can deliver the high-quality results you need from your next painting project to enhance the beauty and value of your home like never before? If so, give our team of skilled professionals a call today and let us show you the kind of quality results that have helped make us one of the most trusted names in high-quality painting services the local area has to offer.
Here at Gio's Pro Painting, we understand that any kind of painting project can be a major investment in your home, and we want to do everything in our power to ensure you get the kind of results you envisioned for your finished product. Far too many homeowners out there just wind up settling with sub-par painting results, whether they made the mistake of hiring a less-than-professional painting contractor, or they attempted to tackle the project themselves and quickly found themselves in over their heads. Here at Gio's Pro Painting, however, we believe the results of our service speaks for itself. Whether you're looking for interior or exterior painting for your Reidsville home or business property, you can always count on our team of skilled painting contractors to get the job done right and leave you with the kind of quality results you're sure to love for years to come. If you have any questions about our full line of high-quality painting services, or if you would like to schedule an appointment for consultation with one of our skilled specialists, give us a call today. Our team of experts are always standing by and would be happy to assist you.
Reidsville Exterior Painting
The paint on the outside of your home plays a major role not only in the overall beauty of your house, but it also provides your home's exterior surfaces with their first line of protection against harm, as well as playing a large role in the overall value of your home. If the paint on the outside of your home has started to look dull or dingy, or has started to develop cracks, started chipping, or peeling, it can not only cause your home to decrease in value, it can also transform your home into the neighborhood eyesore, as well as put your siding at risk of suffering damage from the elements, infestation, and even rot. If the exterior paint on your home has seen better days, or you're just ready for a bit of an aesthetic update, give our team of skilled exterior painters here at Gio's Pro Painting a call today and let us show you how a brand-new coat of exterior paint can benefit your home.
Map of our Reidsville Service Area
Greensboro Paint Tips
---
3 of the Biggest Reasons Why You Need to Get Your Popcorn Ceiling Removed
Since a popcorn ceiling is generally considered less attractive than a smooth ceiling, you might consider getting your popcorn ceiling removed at some point. But if simple aesthetics aren't enough to convince you to invest the time and money into a popcorn ceiling removal, perhaps the other practical benefits will be…
Read More
---
Enjoy a Beautiful Home or Business thanks to Our Quality Exterior Painting Services
A beautiful new coat of paint can provide some great benefits for your Greensboro, NC, home or business. And to get the best new coat of paint, you need to have yours provided by an experienced painting contractor -- such as Gio's Pro Painting. With our experience and dedication to quality, we'll help you enjoy all of the great benefits that a painting can provide…
Read More
If you're looking for an expert painting contractor in the Reidsville area, give us a call today at 336-491-9106 or complete our online request form.