Residential & Commercial Cleaning Services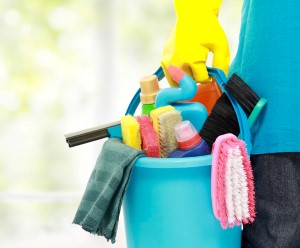 Keeping your home or office clean can be time consuming and laborious. In today's world, it can sometimes be unfeasible to keep up with the cleaning tasks as often as in necessary. While some people enjoy keeping things tidy themselves, plenty of others would rather have someone else take care of it.
If you find that you need or want help with commercial cleaning or residential cleaning in Greensboro or the surrounding areas, the experts at Gio's Pro Painting are here for you.
We specialize in cleaning homes and offices of all kinds. We can offer you a one-time cleaning service or a regular recurring cleaning service to meet your unique needs. Our team of Greensboro cleaning professionals take pride in the work we do. We are sensitive to your needs and treat customers as an extension of our family.
We hope you'll give us the opportunity to discuss our services and offer you a free estimate. Our professional crew will take great care of your home or commercial offices!
Residential Cleaning Services
If you need help keeping up with the daily or weekly house cleaning chores, you'll need a cleaning company who takes great pride in their work and cares about their customers. You can find this and more with Gio's Pro Painting.
Regardless of the type of home that you live in, an occupied space will have to be cleaned regularly. Every time we do anything in the home, we are actually creating messes by tracking dirt around or a number of other things that slowly build up over time. Just living in a home will lead to dust and grime which will become unsanitary if not dealt with regularly.
While cleaning up the house yourself may be simple enough, there comes a point in life when there are better things to do. If you've noticed your home starting to fall into disarray, it's okay to ask for help. That is exactly what Gio's Pro Painting is here for.
We proudly help customers keep their homes and businesses clean. Our cleaning technicians are professionally trained and are skilled to get the job done. We offer a range of cleaning services to help you keep your home in good shape. Whether it's regular dusting and vacuuming or a deep clean for the floors and windows, we have you covered.
Dusting
Vacuuming
Mopping
indows
etc
Commercial Cleaning Services
The last thing you want to have to do when you hire a commercial cleaning service is worry about their performance. Unfortunately, things can be left undone for some time before anyone notices.
Commercial property owners want dependable, reliable, efficient service when it comes to office cleaning services. Only a professional company who is committed to service excellence can sufficiently meet those needs on a regular, extended basis.
Unfortunately, you can go through a lot of service companies until you find the right one. You don't have to look any further than Gio's Pro Painting. Our commercial office cleaning services will meet your needs. Whether you have insurance offices, a real estate office, or an office park, our servicemen and women will provide you with the professionalism and expertise you seek.
We work hard and treat you with honesty and integrity. When you call on GIO's Pro Painting to help you with commercial cleaning, your search for someone to depend on will be over. Just give us a call so we can sit down with you to discuss the needs of your business.
We specialize in cleaning floors, windows, vacuuming, dusting, and more to keep your office in tip-top shape. A healthy environment that's well kept will go a long way to improve your business image and the health of your employees. Call today to schedule an estimate!
Medical office cleaning
Corporate office cleaning
Bank or financial institution cleaning
Insurance office cleaning
Real estate office cleaning
Office park cleaning
Executive office cleaning
Meeting room & lounge cleaning
Office breakroom cleaning
Greensboro Paint Tips
---
3 of the Biggest Reasons Why You Need to Get Your Popcorn Ceiling Removed
Since a popcorn ceiling is generally considered less attractive than a smooth ceiling, you might consider getting your popcorn ceiling removed at some point. But if simple aesthetics aren't enough to convince you to invest the time and money into a popcorn ceiling removal, perhaps the other practical benefits will be…
Read More
---
Enjoy a Beautiful Home or Business thanks to Our Quality Exterior Painting Services
A beautiful new coat of paint can provide some great benefits for your Greensboro, NC, home or business. And to get the best new coat of paint, you need to have yours provided by an experienced painting contractor -- such as Gio's Pro Painting. With our experience and dedication to quality, we'll help you enjoy all of the great benefits that a painting can provide…
Read More
If you are looking for a reliable Greensboro cleaning service, please call 336-491-9106 or complete our online request form.