Popcorn Ceiling Removal Greensboro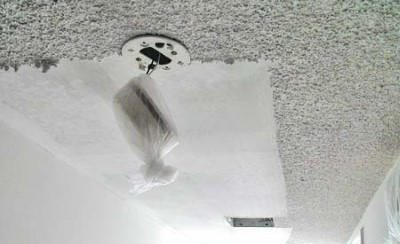 If you are in need for finding a company to take care of your Greensboro popcorn ceilings, you have come to the right place. At Gio's Pro Painting we are the Greensboro painting contractors who can take care of the removal process for you. Sometimes also referred to as cottage cheese ceiling, popcorn ceilings are a type of stucco ceiling that became quite popular as a ceiling treatment from the late 1950's through the 1980's. It was ideal for hiding imperfections as well as acoustical traits.
The problem is that homes and businesses that still have this type of ceiling material are not favorable. And this is not the type of thing that you can take care of on your own. The process is messy and tedious so you need to work with professionals who have the necessary tools and equipment to take care of this type of project. Because early forms of popcorn ceiling contained asbestos, this is another reason this service should only be handled by a licensed professional.
Popcorn Ceiling Specialists
If your home was built prior to 1980, and you have popcorn ceilings, you need to have this material tested for asbestos. If inhaled, asbestos can lead to serious respiratory conditions. The Clean Air Act of 1978 banned the continued use of asbestos but it is still always a good idea to have it checked out. When it comes to the safety and well-being of your loved ones and yourself, you can never be too careful.
Either way, the look is unappealing now and it makes sense to want to have it removed from your home or business. The higher the ceiling, the more difficult the task. So let our experts take care of the scraping, skimming and retexturing required for popcorn ceiling removal. The ultimate cost of the project will depend on the finish you desire on your ceiling; the most popular choice is a smooth finish. Keep in mind, if you hire a company to check for asbestos it is not always a good idea to also hire them for the removal or, at least, get a second opinion before the Popcorn Ceiling Removal.
Greensboro Popcorn Ceilings
Don't take chances when it comes to the quality of work that goes into your home or business, even your ceilings. For the best in superior quality painting services, trust the pros here at Gio's Pro Painting to get the job done. We take great pride in offering the best in customer satisfaction and that shows in the results we get. Give us a call today and let's get started on your project.
Popcorn Ceiling Removal Services We Provide
Popcorn Ceiling Replacement
Popcorn Ceiling Replacement
Greensboro Paint Tips
---
3 of the Biggest Reasons Why You Need to Get Your Popcorn Ceiling Removed
Since a popcorn ceiling is generally considered less attractive than a smooth ceiling, you might consider getting your popcorn ceiling removed at some point. But if simple aesthetics aren't enough to convince you to invest the time and money into a popcorn ceiling removal, perhaps the other practical benefits will be…
Read More
---
Enjoy a Beautiful Home or Business thanks to Our Quality Exterior Painting Services
A beautiful new coat of paint can provide some great benefits for your Greensboro, NC, home or business. And to get the best new coat of paint, you need to have yours provided by an experienced painting contractor -- such as Gio's Pro Painting. With our experience and dedication to quality, we'll help you enjoy all of the great benefits that a painting can provide…
Read More
If you are looking for an expert Popcorn Ceiling Removal contractor in the Greensboro, NC area then please call 336-491-9106 or complete our online request form.