Exterior Painting Greensboro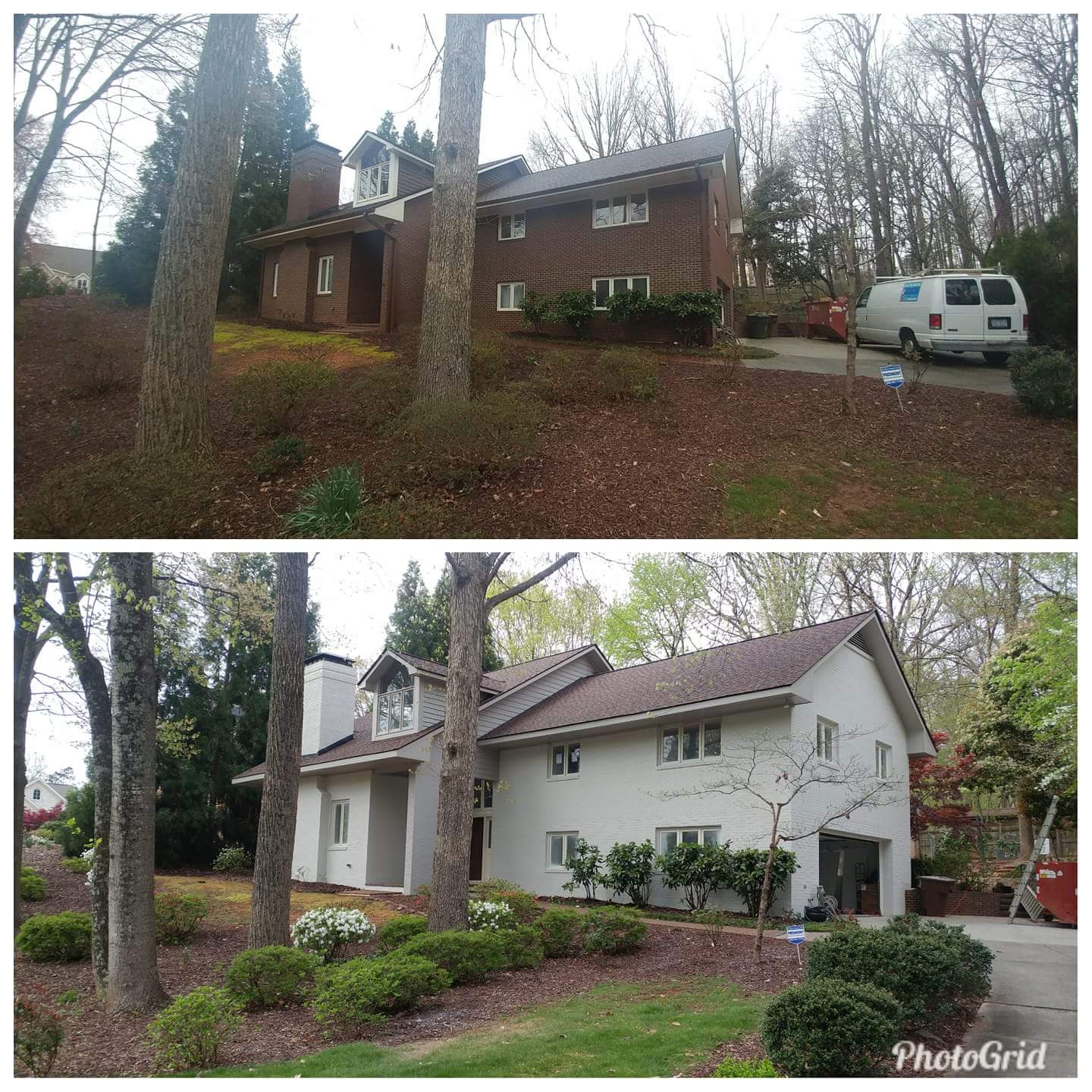 For the outside of your home or business it is all about curb appeal which means your Greensboro Exterior Painting is the key element. If you want to make a good first impression then it only makes sense to make sure that you have the quality paint job that you need in order to make the statement you want and intend to. In order to ensure that you get the quality that you need it is time to give the team of greensboro painting experts here at Gio's Pro Painting a call.
To our team, it is about so much more than just being there to take care of the painting. Of course there is also the extensive prep work and clean up work but even more than that, it is about being there to consult with each client. We want to make sure that you understand the options available to you and that you make the best decision possible, based on your own unique situation, style, taste and budget.
Exterior Painting Experts
Once you get the opportunity to see the outside of your residential or commercial structure transformed because of the exterior painting work we do for you, you will only wish you had done it sooner. Keep in mind, this is not the type of work that you should consider trying to take on yourself. Nor should you allow anyone lacking the experience, proper credentials and necessary equipment to attempt this job for you. Aside from the major concern for safety, you are also likely to not be satisfied with the work once completed.
You also need to be certain that whoever you work with does not try to simply paint over the outside of your home, as is. There needs to be a careful inspection and any outstanding repairs should be dealt with. Inferior workmanship comes from a contractor willing to paint over rotting wood or around missing caulking. Don't take chances when it comes to the quality of your paint work for your home or business.
Greensboro Exterior Painting
We have spent all of our professional careers working in the painting industry; it is something we take seriously and are passionate about. We have a great amount of pride in the work that we do and that shows in the results that we get, so give us a call today and let us show you this firsthand. When it comes to your Greensboro exterior painting service needs, you can count on our pros to get the job done. Get in touch with us now and let us take are of your painting service tasks.
Top-Rated Exterior Painting For Greensboro Homes And Businesses
At Gio's Pro Painting, our Greensboro painting pros are some of the most experienced and skillful professionals in the local area. We have the knowledge and ability necessary to assist you with any painting project that you have planned, from exterior painting to interior painting and more. The one constant in all of our work is our main goal to provide our customers with the highest quality services and results possible. Our team of experts can handle any sized project, large or small, and we are adept at both residential and commercial painting services. With our help, you can beautify and embolden every part of your Greensboro property.
If you're planning an exterior painting project, call Gio's Pro Painting today. Our considerate and knowledgeable staff are eager to take your call and to assist you in any way that we can. Because we're the leading painting contractor in the area, we can answer any questions that you may have about your home or business or our exceptional line of exterior painting services.
Professional Exterior Painting Can Improve Your Home
If you're considering hiring a professional painting contractor, you need to be sure you are making the right choice. Here are some of the reasons it is a good idea to hire a pro and get this job taken care of:
High quality paint on the outside of your home offers better protection from the elements. Older paint leaves your siding more susceptible to wear and tear, and puts your home at greater risk of issues like termites or rot.
An obvious one is that a fresh coat of paint makes your house look better. It's important to have pride of ownership and be able to maximize the curb appeal of your home, all while increasing the property value, as well.
Hiring an exterior painter is also a good way to personalize and modernize your home. It's easy to forget just how long you have had the same color and it may even be the color it was when you bought it from someone else. Get a fresh new look with a new coat of paint.
Top-Rated Commercial Painting For Your Greensboro Home Or Business
At Gio's Pro Painting, our goal is to form a partnership with each client and work through the exterior painting project from start to finish. It is about so much more than getting excellence in painting ability, although that certainly doesn't hurt. It is also about knowing you have a seasoned industry expert on your side to help you make wise choices that will pay off for your home or business. Exterior painting has the ability to give you a great return on investment, and with our seasoned pros, you'll be sure to get that and more.
Exterior Painting Services We Provide
Recent Exterior Painting Projects
Greensboro Paint Tips
---
3 of the Biggest Reasons Why You Need to Get Your Popcorn Ceiling Removed
Since a popcorn ceiling is generally considered less attractive than a smooth ceiling, you might consider getting your popcorn ceiling removed at some point. But if simple aesthetics aren't enough to convince you to invest the time and money into a popcorn ceiling removal, perhaps the other practical benefits will be…
Read More
---
Enjoy a Beautiful Home or Business thanks to Our Quality Exterior Painting Services
A beautiful new coat of paint can provide some great benefits for your Greensboro, NC, home or business. And to get the best new coat of paint, you need to have yours provided by an experienced painting contractor -- such as Gio's Pro Painting. With our experience and dedication to quality, we'll help you enjoy all of the great benefits that a painting can provide…
Read More
If you are looking for an expert Exterior Painting contractor in the Greensboro, NC area then please call 336-491-9106 or complete our online request form.