Greensboro Roof Repairs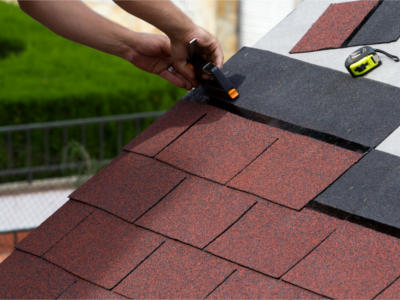 It is not uncommon to need roof repairs for your Greensboro home. It is also not always easy to find a reliable and reputable professional to rely on for this type of service.
At Gio's Pro Painting, we have earned an impeccable reputation for providing a wide variety of services, aside from just exterior painting, such as roof repairs. Our professional commitment is to the service needs of our customers and we want to be able to help you protect the integrity and longevity of your roofing system.
We take great pride in all that we do, including repairing your roof. Plus, you can feel confident that if we feel your roof is beyond repairs and needs a roofer to take care of replacement, we will always steer you straight.
Does Your Greensboro Home Need Roof Repairs?
Even the best roofing system is going to need repairs, it is just a matter of when not if. Sure, better materials and workmanship invested into the initial installation help reduce the likelihood of early or frequent repairs.
However, something as beyond your control as the weather can commonly cause roof problems. Here are a few other things that you should keep in mind:
Leaks are among the most common roof problem, and one of the biggest concerns. Once a leak develops it must be addressed in a prompt and professional manner. No matter what type of roof you have, a leak indicates that the top layer has been compromised. The entire job of your roof is to keep moisture from infiltrating your roof and your home.
While it is important to have your home and your roof cleaned with a professional power washing periodically, you have to be certain the so-called pro performing the job, does it correctly. Mishandling this type of work can do more harm than good. Pressure washing can end up damaging your roofing system by tearing at shingles or trapping water underneath the shingles. Make sure you only work with a professional roof cleaning company that takes precautionary measures to safeguard your roof.
Ponding or standing water can be caused by a number of things. However, it is a red flag that something is wrong. Not only that, once you have standing water, you are at a much bigger risk of that developing into a leak. Don't just address the need to remove the pooling water, address the underlying roof repair issues at hand in order to prevent it from continuing to happen.
The answer is simple if you need Greensboro roof repairs – contact Gio's Pro Painting. We take great pride in the work that we do and that is evident from the results that we are able to get, every single time.
Greensboro Paint Tips
---
3 of the Biggest Reasons Why You Need to Get Your Popcorn Ceiling Removed
Since a popcorn ceiling is generally considered less attractive than a smooth ceiling, you might consider getting your popcorn ceiling removed at some point. But if simple aesthetics aren't enough to convince you to invest the time and money into a popcorn ceiling removal, perhaps the other practical benefits will be…
Read More
---
Enjoy a Beautiful Home or Business thanks to Our Quality Exterior Painting Services
A beautiful new coat of paint can provide some great benefits for your Greensboro, NC, home or business. And to get the best new coat of paint, you need to have yours provided by an experienced painting contractor -- such as Gio's Pro Painting. With our experience and dedication to quality, we'll help you enjoy all of the great benefits that a painting can provide…
Read More
If you are looking for expert Roof Repairs in the Greensboro, NC area then please call 336-491-9106 or complete our online request form.