Power Washing Greensboro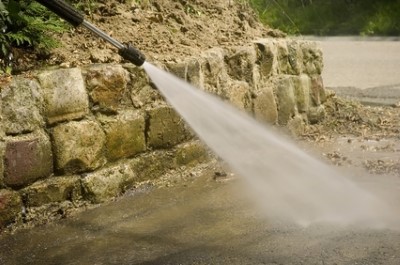 When you want the ultimate clean, only the best in Greensboro Power Washing services will do. At Gio's Pro Painting, we know what it takes to get the job done. We will deliver the finest clean you have ever seen with the implementation of our high velocity power washing. Don't take chances when it comes to the level of clean you get for the exterior of your home or commercial business.
Too many homeowners think this is the type of thing that they can take care of by renting a pressure washer from their local home improvement store. Unfortunately, what they do not realize is that this is not the same type of washer so you won't get nearly the same type of clean. Not to mention, you need to let our expert Greensboro Painting Contractors take care of the washing because we know the techniques necessary to get the job done, the right way.
Power Washing Pros
The pressure washer that you can rent and that some companies use is a less expensive, lower grade device compared to what true professionals use. This means it is good at moving leaves around your driveway, but not much else. If you want a clean that helps restore your home to its original condition, if not better, give our pros a call. We take great pride in the work that we do and that shows in the results that we get.
Let us show you what a difference true quality workmanship makes, let us take care of your exterior cleaning needs. We will take care of cleaning your siding, gutters, driveway, walkways and any other surface you feel needs to be cleaned with expert precision. But we can't get started until you give us a call so get in touch with us right now.
Greensboro Power Washing
Power washing the exterior of your home is something you should have done on a regular basis. Dirt, dust, pollen, mildew and other unwanted contaminants can build up on your surfaces. Not only do they look unsightly, they can begin to cause damage. Eventually, they will get under the siding and really begin to cause damage to your home. Protect your investment with a expert level of cleanliness.
With an entire professional background rooted in painting services for residential and commercial clients, our experts here at Gio's Pro Painting are dedicated to showing you what quality really means. We look forward to working with you and helping take care of your Greensboro power washing services. Give us a call today and let's make arrangements to take care of your exterior washing services for residential and commercial structures.
Power Washing Services We Provide
Latest Projects in High Point
Greensboro Paint Tips
---
3 of the Biggest Reasons Why You Need to Get Your Popcorn Ceiling Removed
Since a popcorn ceiling is generally considered less attractive than a smooth ceiling, you might consider getting your popcorn ceiling removed at some point. But if simple aesthetics aren't enough to convince you to invest the time and money into a popcorn ceiling removal, perhaps the other practical benefits will be…
Read More
---
Enjoy a Beautiful Home or Business thanks to Our Quality Exterior Painting Services
A beautiful new coat of paint can provide some great benefits for your Greensboro, NC, home or business. And to get the best new coat of paint, you need to have yours provided by an experienced painting contractor -- such as Gio's Pro Painting. With our experience and dedication to quality, we'll help you enjoy all of the great benefits that a painting can provide…
Read More
If you are looking for an expert Power Washing contractor in the Greensboro, NC area then please call our Greensboro Painters at 336-491-9106 or complete our online request form.