Greensboro Siding Repairs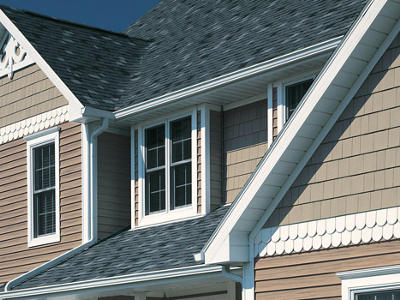 At Gio's Pro Painting, we always try to offer siding repairs versus replacement, for our Greensboro customers. In fact, we cannot even provide one of our most popular services, exterior painting, without first addressing the need for repairs.
Part of the responsibility that comes along with being a professional painting company is first expertly preparing the surface. And one of those important tasks is siding repairs.
What homeowners tend to overlook is the fact that siding is more than just something intended to make your house look its very best. You are picking out a high-quality siding material when you are having your home built because this is what acts as a protective outer shell, safeguarding your home from the elements.
Greensboro Siding Repairs or Replacement?
It is important to know the truth – do you need siding repairs or replacement? A less honest contractor may try to convince you that you need replacement, because it can earn them more money.
However, if your so-called pro misses the fact that you need replacement, you could end up paying for repairs and painting only to find out quickly that replacement is necessary.
It can depend greatly on the type of siding that you have. There are a number of different materials used for siding, anything from vinyl to cedar. The type of material you have will dictate the types of repairs you need, as well as how soon you may need replacement. Know more about the life expectancy of your siding material, before you even have it installed. In many cases, this may become a deciding factor on the type of material you get.
One of the benefits of vinyl siding is that it does not require much maintenance; simply have it power washed occasionally and make certain that you do not have neglected repair needs. That being said, one of the downfalls of vinyl is that it is more likely to crack because it is more brittle.
A benefit of some types of siding materials, such as aluminum and vinyl, is that it is possible to replace just the damaged pieces. However, this is not a long-term solution. Over time, you will need to replace all of the siding in order to prevent frequent repair needs. Plus, once the sun begins to fade the siding, it makes replacement pieces that much more obvious.
Rot and major structural issues are usually the only circumstances in which replacement is necessary instead of repairs. Do not let anyone convince you that repairs will suffice in these situations. However, if enough time has passed, the condition of your siding will be compromised and you should opt for replacement.
In order to be sure you get honest feedback and high-quality workmanship, call us for all of your siding repairs, for your Greensboro home.
Greensboro Paint Tips
---
3 of the Biggest Reasons Why You Need to Get Your Popcorn Ceiling Removed
Since a popcorn ceiling is generally considered less attractive than a smooth ceiling, you might consider getting your popcorn ceiling removed at some point. But if simple aesthetics aren't enough to convince you to invest the time and money into a popcorn ceiling removal, perhaps the other practical benefits will be…
Read More
---
Enjoy a Beautiful Home or Business thanks to Our Quality Exterior Painting Services
A beautiful new coat of paint can provide some great benefits for your Greensboro, NC, home or business. And to get the best new coat of paint, you need to have yours provided by an experienced painting contractor -- such as Gio's Pro Painting. With our experience and dedication to quality, we'll help you enjoy all of the great benefits that a painting can provide…
Read More
If you are looking for expert Siding Repairs in the Greensboro, NC area then please call 336-491-9106 or complete our online request form.