Interior Painting in Asheboro, NC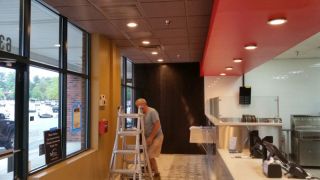 In this Asheboro, NC project, we painted the front entry-way for Domino's Pizza. We used three different colors: bright red, gold brown, and black chalk. Everything came out excellent.
Summary of this Interior Painting Project in Asheboro, NC
Project Type: Interior Painting
Project Location: Asheboro, NC
We completed the front entry way of Domino's Pizzeria
Asheboro Entry Way Painting Gallery
Map of Entry Way Painting in Asheboro, NC
If you are looking for interior painting services in the Asheboro area, please call 336-491-9106 or complete our online request form.