Exterior Painting in Greensboro, NC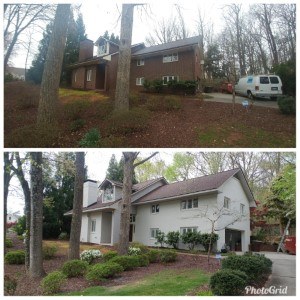 This house had the original brick color since it was built and the homeowner wanted to give it a new life. So he decided to paint the walls with Sherwin Williams drift of mist. He also wanted the soffits and trim painted with Sherwin Williams versatile gray.
Summary of Exterior Painting in Greensboro, NC
Project Type: Exterior Painting
Project Location: Greensboro, NC
Product Used: Sherwin Williams promar200 paint
---
Review of Exterior Painting Project in Greensboro, NC
"Everyone, we recently moved into our house in Starmount Forest. We did a whole house renovation inside as well as painted the brick on the outside. Gios Painting was impressive. Chrisitian and his dad are amazing. His dad is so detailed and can cut if with the best of people, as for the brick on the outside it made the house just pip out. We went from a brown natural brick to an all white house and opened the inside up. They removed popcorn ceilings and prepared the ceilings back and looks amazing. I would recommend them in a heartbeat." - Thanks Chrisitian
Exterior House Painting in Greensboro, SC
If you are looking for exterior painting services in the Greensboro area, please call 336-491-9106 or complete our online request form.