Residential Power Washing in Greensboro, NC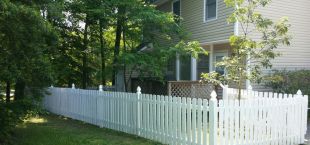 We power washed a house and the customer's fence. Then we repainted the fence white for a new look that really stands out.
Summary of Power Washing in Greensboro
Project Type: Power Washing
Project Location: Greensboro, NC
Fence Cleaning & Re-painting
House Power Washing
Greensboro Power Washing Gallery

Review of Greensboro Power Washing
"Quick, professional, and efficient. Gio's Pro was just that. They did an excellent job painting our fence as well as pressure washing and we will be sticking with them in the future for any possible upkeep needed. I would recommend to any business or homeowner. Thank you again!"
---
Map of Entry Way Painting in Greensboro, NC
If you are looking for Power Washing or Painting Services near Greensboro NC, please call 336-491-9106 or complete our online request form.