High Point Exterior Painting and Window Reglazing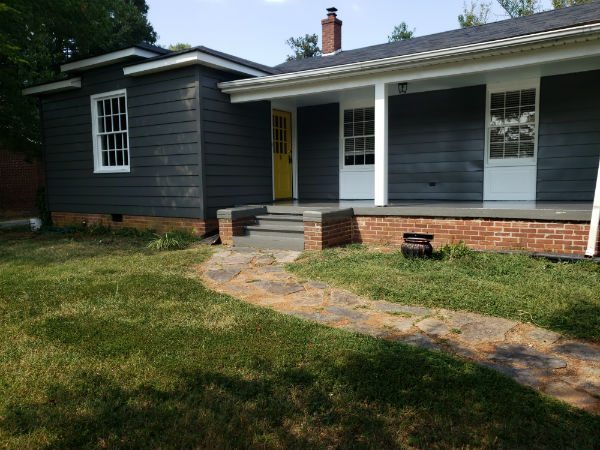 This home was falling apart slowly and needed immediate attention. The aluminum siding was down to it's primer. The porch floor and ceiling were peeling everywhere. The windows were falling apart and needed repairs, exterior painting, and reglazing. So scraped the old glazing that was falling off and reglazed all of the windows and we used bondo to repair some of the rotted windows. Then we gave the windows primer and 2 finish coats. We also painted all of the white trims that were wood. We scraped and sanded the porch ceiling and gave that 2 coats. We also scraped and sanded the porch floor which was cement and gave it 2 coats of special oil paint for longevity. We painted the front and back door 2 coats each. And sprayed all of the siding with 2 coats charcoal gray.
The home was very old and needed a lot of detailed work. Older home projects like these require top-quality local painters - such as our team of High Point and Greensboro painters so that the job is done right. Thanks to our expertise, the house turned out absolutely amazing and left the homeowners with a big smile on their faces!
Summary of this Project in High Point, NC
Project Gallery
If you are looking for interior painting services in the High Point, NC area, please call 336-491-9106 or complete our online request form.